Two-Time Major Champion John Daly Now Plays NUNCHUK Precision Shafts – Driver Through Wedges!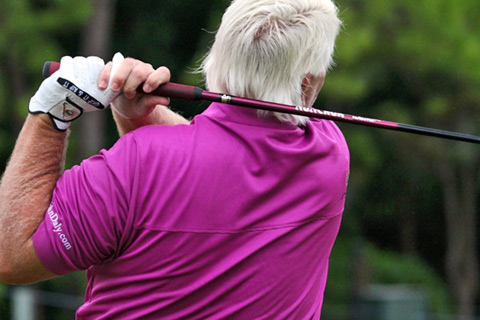 nVentix Golf is excited to announce that two-time major champion John Daly has chosen NUNCHUK Precision Shafts for his clubs. The "Lion" will have Nunchuks througout his bag - playing the NUNCHUK wood shaft in his driver and fairway woods, as well as, NUNCHUK xi iron shafts in his irons and wedges, AND the NUNCHUK 370 hybrid shafts in his hybrids.

"I started working with NUNCHUK xi iron shafts and was impressed with the accuracy and feel in my irons and wedges," Daly said. "When I added NUNCHUKs in my driver and fairway wood, I not only had a consistent feel in all my clubs, but I found that the performance and accuracy through the bag were unparalleled."

"We are excited that John Daly has chosen to rely on NUNCHUK shaft technology and we look forward to seeing John work his way toward the top of the leaderboard from week to week," said Mike McCall, nVentix Golf CEO. "John joins over 60 PGA Tour players who have put NUNCHUKs in play."

The revolutionary technology in the NUNCHUK's groundbreaking design allows the exact same shaft to be used by professionals and amateurs, men and women, juniors and seniors – the original NUNCHUK in their drivers and fairway woods, the NUNCHUK 370 in their hybrids and NUNCHUK xi in their irons and wedges. "When you've got a NUNCHUK in your bag, you're playing EXACTLY what the pros play," McCall added.

The unique Tri-Zonal StabilityTM technology in the NUNCHUK Precision Shaft, the NUNCHUK 370 Precision Hybrid Shaft and the NUNCHUK xi Precision Iron Shaft enables golfers of all abilities to more consistently deliver LONG & ACCURATE driver, fairway wood and hybrid shots, along with PINPOINT ACCURATE iron and wedge shots. For golfers it simply means more fairways, more greens and lower scores.
With lots of new and exciting equipment options this spring, be sure to ask your club fitter to build your new clubs with NUNCHUK shafts.
Visit our NUNCHUK Dealers page for a complete list of NUNCHUK dealers globally. NUNCHUK shafts are available as a custom option from NIKE GOLF and in EDEL GOLF irons and wedges.
Fairways and greens!